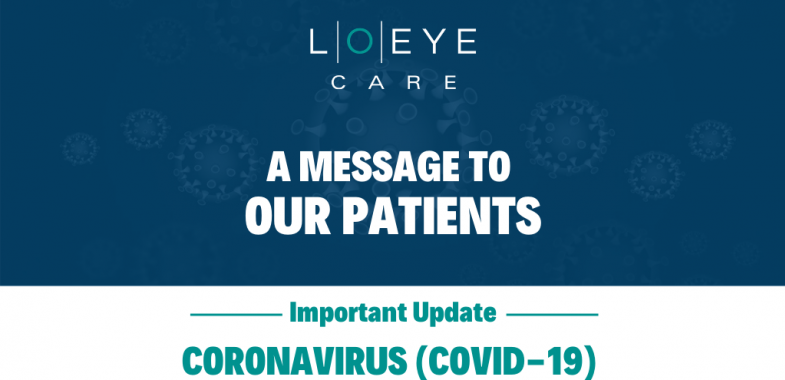 Coronavirus Update
Updated on 4/27/2020
In ordinance with the State of Michigan executive order 2020-59 and for the health and safety of our patients and staff, we are extending our limitations to scheduling only medically-necessary appointments through May 16th. All other appointments are being rescheduled for a later date.
During this time, some of our offices continue to be temporarily closed. These offices include Charlotte, Fowlerville, Lake Lansing, Lake Odessa, Sparrow and Grand Ledge. All other offices have limited hours and will be by appointment.
Temporary Optical Changes:
All patients picking up glasses or contacts will receive a call from our optical department to schedule a curbside delivery appointment.
We are only taking new orders for contact lenses and glasses by phone. If you are in need of a repair, please review the following optical hours of when your location is open or call for assistance at 800-292-1668.
Optical hours as of 5/4/20:
All offices are open Monday through Friday from 9:00 am – 12:00 pm.
We are continuing to closely monitor the coronavirus (COVID-19) pandemic and following the guidance from the Centers of Disease Control (CDC), along with Federal and State level.
We appreciate your support and help in reducing the possible spread of the virus. We are taking steps to protect our patients and staff including:
• Stricter protocols and more frequent cleaning and sanitizing has been implemented throughout our offices.
• Each patient will be screened with questions when they check-in prior to their appointment.
• Patient visiting our office must wear a mask or face covering of some sort over their mouth and nose (for example: handmade cloth face mask, bandana, scarf, wrapped t-shirt) More information on wearing a cloth face covering here
• No visitors allowed inside of the building unless the patient is in need of assistance. If a visitor must accompany you to your appointment, they must wear a mask or face covering at all times inside the building.
We appreciate your patience, flexibility, and understanding during this time. If you have any questions or concerns, please contact our office at 800-292-1668.