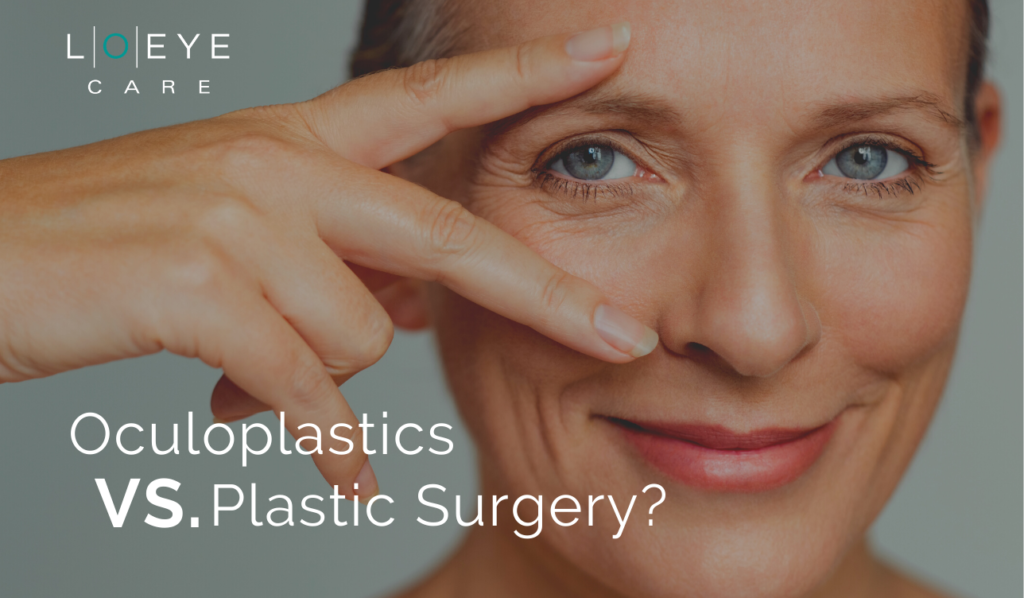 What is the difference between oculoplastic and plastic surgery?
At L.O. Eye Care, we offer a wide variety of services to help you see and look your best. We offer safe surgical and non-surgical options to help address signs of aging in the forehead, eyebrows, upper eyelids, and lower eyelids. These services are­ commonly referred to as oculoplastic procedures. But what are oculoplastic procedures, and how are they different from other forms of plastic surgery?
Oculoplastic surgery
Oculoplastic surgery is a subspecialty of ophthalmology that focuses on surgery around the eyes and face. After medical school, oculoplastic surgeons complete their internship and residency training in ophthalmology, where they take a deep dive into the intricate details of the eye, eyelids and the tissue around the facial region. During their internship and residency years, these doctors also master the delicate touch that takes to perform complex eye lid surgery, including working with small tools and fine sutures. The sutures used for eye lid surgery are so thin, they can float on the slightest breeze moving through a room.
After internship and residency training in ophthalmology, these doctors complete a fellowship in oculoplastic surgery. These surgeons take the same detailed surgical skills learned during their ophthalmology residency and apply them their oculoplastic surgical training.
Oculoplastic surgery can be used to achieve a more youthful look. Procedures like BOTOX™ injections or an eyebrow lift can help patients achieve smooth skin, an even complexion, absence of deep creases, and bright eyes. However, it's also important to remember that oculoplastic surgery is not just for those who want to look younger. It can also provide relief for painful eye disorders. A common sign of aging is drooping eyelids. In some cases, drooping eyelids can become so severe that they interfere with vision, or cause eyelid disorders like ectropion or entropion. In serious cases like these, oculoplastic surgery can provide relief and help patients see more clearly.
Plastic surgery
Plastic surgery is a subspeciality of general surgery. After medical school, a doctor wishing to become a plastic surgeon will complete their internship and residency training in general surgery, where they'll learn about surgical procedures covering every subspecialty of medicine. After this training, general surgeons will go on to complete a fellowship in plastic surgery. Here, they learn about plastic and reconstructive surgery covering every area of the body (breasts, abdomen, arms, face, legs, etc.).
Similar to oculoplastic surgery, plastic surgery can be used to achieve a younger look. But it is also used for medical purposes. Plastic surgery helps trauma survivors, burn victims, and other patients with complex medical challenges to regain lost functionality and live fuller lives.
What's the difference?
While plastic surgeons are well-trained in the reconstruction of the entire body, oculoplastic surgeons are specialists in the functioning of the eye and the facial regions around the eye. This expertise in ophthalmology and training in complex eye surgery is key to ensuring that patients achieve the right aesthetic and surgical outcomes. If you want to learn more about L.O. Eye Care's safe, effective surgical and non-surgical oculoplastic services, call 517.337.1668 or visit our online Med Chat service to schedule a consultation.