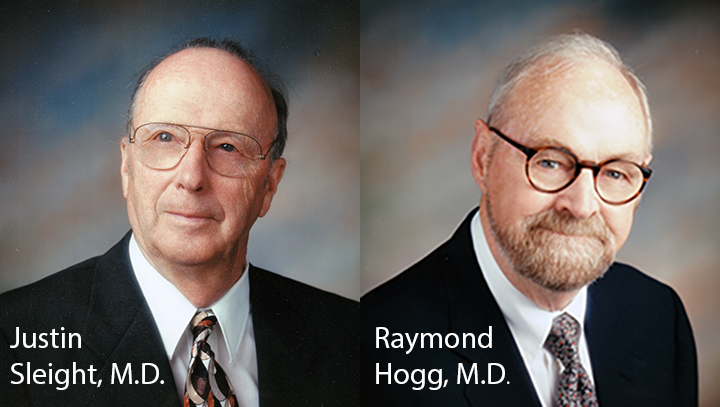 L.O. Eye Care, formerly Lansing Ophthalmology, was founded in 1960 by Dr. Justin Sleight and Dr. Raymond Hogg, two ophthalmologists who believed strongly in helping those in need. That tradition continues today. The doctors and staff of L.O. Eye Care support community organizations throughout Mid-Michigan.
Below are the organizations L.O. Eye Care is supporting this year. Click on the links to see how you can get involved.
To submit a request for sponsorship consideration, please email loeyecare@loeye.com.
Mikey's Fund
A charity providing eye care & eye wear to disadvantaged children in the Mid-Michigan area.
The Davies Project
The Davies Project spearheads collaboration across the Lansing area to provide community-based, non-medical support to local families facing serious, long-term health challenges with a child. In particular, when a car is unavailable and public transportation is a poor option, The Davies Project helps referred families by providing free rides to and from local subspecialty medical appointments.
Two Men and a Truck Movers for Moms
TWO MEN AND A TRUCK® locations across the United States are collecting donations for distribution to local women's and family shelters for delivery on Mother's Day. We believe Mother's Day should be a joyous occasion for mothers and their families. Unfortunately for some women, that's not always the case. TWO MEN AND A TRUCK® is hoping to change that with a program called Movers for Moms® — a collection of comfort and essential items that will be delivered to women utilizing the services at Child and Family Charities, The SafeCenter, and Haven House on Mother's Day. This is the 11th year for the TWO MEN AND A TRUCK® Movers for Moms® program. The Lansing franchise joined the Movers for Moms® program to support those less fortunate by making this Mother's Day a little bit happier for them. Last Spring, Movers for Moms® collected more than 295,000 essential care items for women in hundreds of shelters across the nation. This year, our goal is 310,000 items. The donations we encourage for the Movers for Moms® drive include any/all comfort items that all moms enjoy: nice soaps, hair conditioners, soft pillows, slippers, etc. Essential items such as food and toiletries will also be welcome. NO GIFT IS TOO SMALL. We are collecting donations for this year's Movers for Moms® program until the week of Mother's Day. TWO MEN AND A TRUCK® has women in key leadership roles across the company, and some of our most successful franchisees are women, so the idea for Movers for Moms® came to us naturally.
Silver Bells in the City
Silver Bells in the City is a Lansing tradition that attracts over 80,000 people to the Capital City each year and takes place annually on the Friday before Thanksgiving in Lansing, MI. The entire city will glow with thousands of lights for the celebration, bringing together family and friends from across the state and beyond to kick-off the holiday season.
Making the Turn Against Parkinson's
Making the Turn Against Parkinson's is an organization dedicated to using their passion for golf to raise awareness of Parkinson's disease and positively impact the lives of Parkinson's patients and their family members throughout the state of Michigan.
Michigan Osteopathic College Foundation Ball
Proceeds of this event benefit the Michigan Osteopathic College Foundation (MOCF), providing student scholarships and educational programming within the Michigan State University College of Osteopathic Medicine.
Woofer Walk
Benefiting the Ingham County Animal Shelter Fund and raising money to stop animal cruelty.
Special Olympics Opening Eyes Program
The Special Olympics-Lions Clubs International Opening Eyes program is a vision and eye health screening in partnership with the Lions Clubs International Foundation. Led by volunteer vision care professionals, Opening Eyes is able to offer prescription eyewear, sunglasses, and sports goggles to Special Olympics athletes.
Grand Ledge Victorian Days
The first weekend in May, Grand Ledge celebrates Michigan artists, local culture, and their rich Victorian heritage.
Lansing Kids Connect and Lansing Community Connect
Providing free eye screenings to Greater Lansing Area students in need.
Charlotte Frontier Days
Every September, Charlotte, Michigan is filled with crowds, laughs and cheers. Join the thousands of people who will converge to celebrate the more than four decades old tradition of family fun at the Charlotte Frontier Days Festival.
Playground in the Park Reimagined
The City of East Lansing and the Rotary Club of East Lansing are working together to bring a new playground to Patriarche Park in June 2014. Designed by the community, built by the community and with funds raised by the community, "Playground in the Park Re-Imagined" will replace the existing wooden structure with a modern, eco-friendly playground design. The playground will be fully accessible, support youth fitness and offer an unique outdoor play space for all ages.
CASA Golf Scramble
Central Michigan Veterans Fund
East Lansing Prime Time Night Out
Fowlerville Family Fair
GM Annual PMN Charity Golf Outing
Grand Ledge Splashpad
Grand Ledge High School Baseball
Haslett High School (yearbook and choir)
Homeschool Performing Arts
Ingham County Fair
Lakewood High School
Lansing Catholic Patriots Hockey
March of Dimes Signature Chefs Auction
McLaren GreaterLansing Foundation
MSU College of Osteopathic Medicine D.O. Monster Dash 5K Run/Walk
Mt. Pleasant Sacred Heart Academy
Okemos High School
Okemos Montessori
Pinecrest Elementary School
Resurrection School
Rotary Club of Williamston Sunrise
Sparrow Foundation
Webberville High School Yearbook
Williamston High School (Soccer)