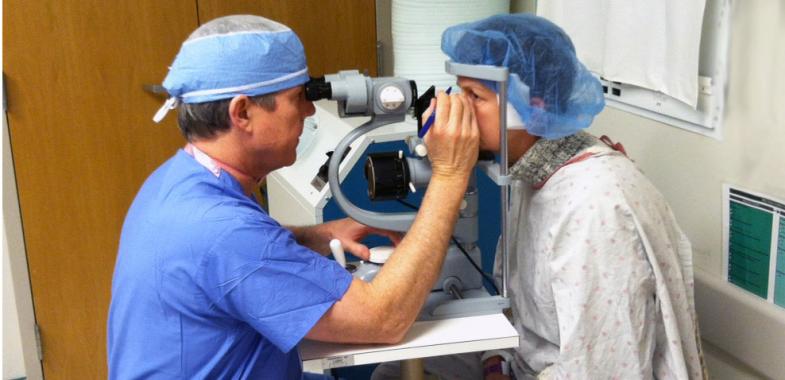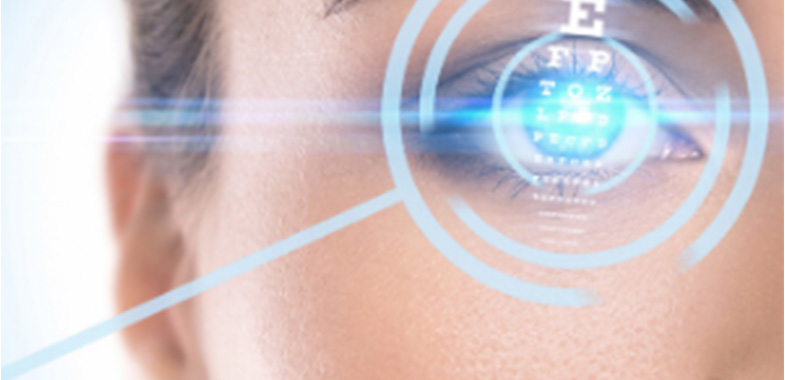 What is LASIK?
LASIK, or laser assisted in situ keratomileusis, is an outpatient surgical procedure used to treat myopia (nearsightedness), hyperopia (farsightedness), and astigmatism. At L.O. Eye Care, two lasers are used to reshape the cornea (the clear covering of the eye) to improve the way the eye focuses light rays onto the retina.
Today's LASIK technology at L.O. Eye Care
In the past, the first step in LASIK consisted of creating a flap in the cornea using a metal blade (microkeratome). Second, the flap was gently folded back and a laser was used to reshape the corneal tissue.
At L.O. Eye Care, we have upgraded our technology to use a second laser (IntraLase™), rather than a hand-held blade, to complete the first step in the process, making LASIK safer for our patients (and our staff).
Did you know ...
- LASIK can be used to correct the following:
Nearsightedness up to -11.00
Farsightedness up to +3.00
Astigmatism up to +5.00
- Patients who receive LASIK with IntraLase required fewer enhancement procedures in the future.
-In one FDA clinical study for the treatment of specific nearsightedness, 98% of CustomVue patients had 20/20 vision or better. Individual results may vary.
Is LASIK affordable?
LASIK Screening and Consultation: Complimentary
This includes a complete ophthalmologic examination and special testing to determine whether or not you are a candidate for Custom Blade-Free LASIK. Due to the nature of the testing, patient cannot be given an eyeglass prescription.
Custom Blade-Free LASIK Surgery: $2,200.00 per eye
Facility Fee of $120 per eye applies.
This fee includes use of the IntraLase technology, Wavescan analysis, custom ablation, corneal topography, the surgeon fee, supplies and facility fee, laser fees, L.O. Eye Care's Quality Assurance Program and post-operative care for one year. Transitional lenses and enhancement facility fees are not included. 
0% Financing for 12 Months!
Through an exclusive arrangement, our patients can have laser vision correction now and finance the expense over the next 12 months – Interest Free! 
We're pleased to offer our patients the CareCredit® card, North America's leading patient payment program. CareCredit® cards work just like a regular credit card, but is exclusively for healthcare services. You'll get low monthly payment plans for healthcare procedures not commonly covered by insurance, including LASIK.care credit
Learn more by visiting CareCredit.com or contacting our office. Ready to apply? Apply online for your CareCredit® card today.
Will insurance cover LASIK surgery?
LASIK is an elective procedure, it is typically not a covered benefit with insurance carriers. However, some insurance carriers do cover LASIK. When consulting your carrier for applicable benefits, please use the following procedure code: S0800.
Will I need glasses or contacts after surgery?
LASIK may decrease your dependence on glasses and contacts, or, in some cases, allow you to do without them entirely. According to the American Academy of Ophthalmology, seven out of 10 LASIK patients achieve 20/20 vision, and with IntraLase that number is higher.
However, 20/20 does not always mean perfect vision. If you have LASIK to correct your distance vision, you'll probably still need reading glasses by around age 45. Therefore, it is important for you to consider the possibility that LASIK may not give you perfect vision.
Am I a candidate?
Can you answer 'yes' to the following questions?
I have healthy eyes.
I am not pregnant or nursing.
I am at least 18 years old and nearsighted.
-or-
I am at least 21 years old with an astigmatism or am farsighted.
My vision has been stable for the last year.
I do not have an immunodeficiency or autoimmune disease.
I have not been diagnosed with any corneal problems, like Keratoconus.
I do not have a history of Iritis, severe dry eye, or diabetic eye disease.
I do not have a pacemaker or implanted defibrillator.
I scheduled an appointment with my eye doctor to determine if my eyes are healthy and suitable for the procedure.
Why L.O. Eye Care?
At L.O. Eye Care, we value our patients and their eyes. That's why we only offer the best in LASIK – and that means CustomVue and IntraLase technologies. 
L.O. Eye Care's four LASIK surgeons, Stuart Landay, M.D., Kevin Liu, D.O., John Mackovjak, M.D., and Matthew Yeomans, M.D. are committed to providing you with the highest level of care.  That is why your personalized procedure begins with an initial exam to ensure that you are a good candidate for successful LASIK surgery. Next, you'll meet the surgeon who will perform your laser procedure and he or she will personally examine your eyes and outline the risks and benefits of surgery. You will sit down with the surgical counselor who will walk you through the surgical process.  Your doctor and the surgical counselor will work together to make sure that all of your questions are answered and your concerns are addressed.  
More than 30% of our LASIK patients are referred from friends and family who have received services at L.O. Eye Care. We consider that to be a great compliment and a glowing endorsement of our standard of care.
Laser assisted in-situ keratomileusis (LASIK) can only be performed by a trained physician and is specified for reduction or elimination of myopia, hyperopia, and astigmatism as indicated within the product labeling. Laser refractive surgery may be contraindicated for patients: a) with collagen vascular, autoimmune, or immunodeficiency diseases; b) who are pregnant or nursing women; c) with signs of keratoconus or abnormal corneal topography; d) who are taking one or both of the following medications: Isotretinoin (Accutane) and Amiodarone hydrochloride (Cordarone). Potential side effects to laser refractive surgery may include glare, dry eye, as well as other visual anomalies. LASIK requires the use of a laser or microkeratome that cuts a flap on the surface of the cornea, potential side effects may include flap related complications. Consult with your eye care professional and Patient Information Booklet regarding the potential risks and benefits for laser refractive surgery; results may vary for each individual patient.
- Jordan H., LASIK Patient
- Kelly H., LASIK Patient
- Susan F., LASIK Patient