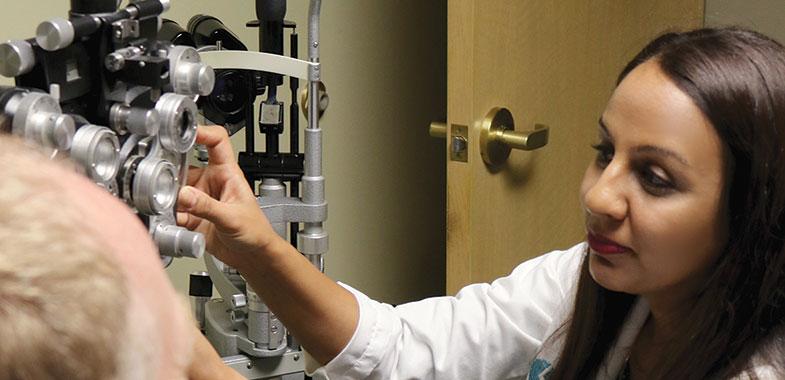 How can I prepare for my cataract surgery?
Learn about the procedure
Before undergoing cataract surgery, it's helpful to know the details of the procedure so you will know what to expect.
After receiving a local anesthetic, such as a sedative, topical anesthetic or injections around the eye, your cataract surgeon will begin removing your clouded lens. They will use a technology known as phacoemulsification, a modern surgical technique that uses high-energy sound waves to break the cataract into small pieces. Your surgeon will then make a small 2.4 to 3.0 mm incision on your eye to remove the small cataract pieces. Your new intraocular lens, made of a soft, foldable material, will be inserted through the incision and placed on the site of your former clouded lens. The surgical incision on your eye is so small that it's self-sealing and will require no sutures. This allows for a faster recovery time.
The entire procedures lasts an average of 10 minutes, though you may need more time to recover from the effects of anesthesia.
If you are interested in seeing the procedure for yourself, check out this video of a live cataract surgery. This video shows a real cataract surgery. Viewer discretion is advised.
Meet with your doctor
To determine if your symptoms are the result of your cataracts, you will have some initial testing at your cataract consultation with your L.O. Eye Care cataract specialist. Here, your doctor will determine whether you are eligible for cataract surgery. If you are a candidate, you will see the surgical counselor for further testing to determine which intraocular lens (IOL) will work best for you and your desired outcome.
There are several different types of lenses that can be utilized to create the best outcome for you. A monofocal lens replacement can help you achieve brighter and clearer vision. However, it only allows you to focus at one distance, so you may still need glasses for distance or near vision. A Toric lens implant corrects both cataracts and astigmatism. Similar to the monofocal lens, Toric lens implants only allow you to focus on one distance, so you may still require near vision or distance glasses. Multifocal lens implants reduce your dependence on both near vision and distance glasses. These premium lens implants are only available for select patients who meet specific criteria set by L.O. Eye Care cataract surgeons. Your doctor will give their opinion on which options are best for your eyes.
It is also important during this appointment to tell your doctor about any and all medications and supplements you are taking, as they may interfere with your cataract surgery.
Follow pre-op instructions
If your ophthalmologist advises you to stop taking a medication or supplement, it is important that you follow their instructions. Certain medications can increase your risk of complications or bleeding during surgery.
Unless otherwise instructed by your surgeon or the surgical center/hospital, do not eat or drink anything after 12 a.m. on the day of your procedure. On the day of your surgery, wear comfortable clothes and don't wear any eye makeup or cosmetics.
Prepare for recovery in advance
Even though you will be able to go home on the day of your surgery, you won't be able to drive yourself. Make arrangements for someone to drive you to your surgery appointment and have them plan to stay the entire time. As your eyes become accustomed to your new IOL and heal from the surgery, it may be difficult to see well enough to use your cell phone.
Your doctor may recommend you limit certain activities, such as bending or lifting, for a week after your surgery. Make sure to plan ahead. Ask for help with certain chores around the house. If your job requires bending or lifting, make sure to take some time off or let your employers know about your postoperative limitations.
To learn more about cataract surgery at L.O. Eye Care, call 517.337.1668 or visit our online MedChat service to schedule a consultation.