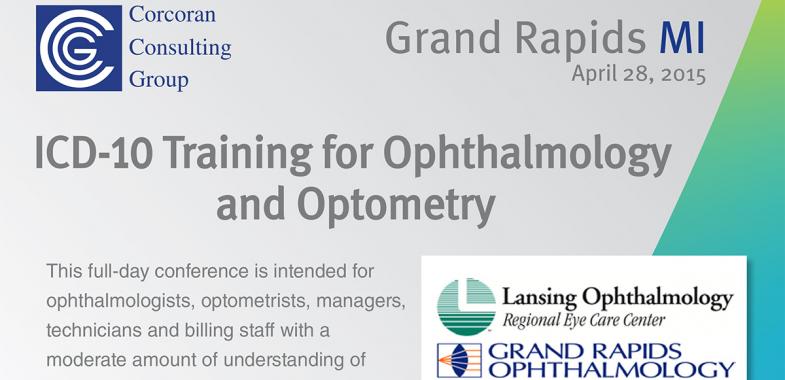 ICD-10 Training for Ophthalmology and Optometry
ICD-10 Training – April 28, 2015
As you know, most coding seminars provide only general medical information and coding. ICD-10 is a major mandated change that will affect all eye care practices. Lansing Ophthalmology has partnered with Grand Rapids Ophthalmology to host a Corcoran Consulting Group seminar in Michigan specific for optometry and ophthalmology.
The seminar is on Tuesday, April 28 from 8 am- 5 pm at the Hilton Grand Rapids Airport, 4747 28th Street, Grand Rapids. Registration is provided online through Corcoran's website, www.corcoranccg.com. Please note that registering on or before March 29, 2015 saves $70 per participant.
If you have any questions regarding this seminar, you may contact Corcoran directly at 1.800.399.6565 or Chris Stark from Grand Rapids Ophthalmology at 616.588.6506 / email cstark@seeitclear.com.