Your time is important!
We are committed to you and are working hard to make your experience easier and more efficient. Our check-in kiosks help you get to your appointment faster with it's easy-to-use system that provides real-time information regarding your own co-pays, deductible and insurance information so you can be on your way in no time!
Benefits Include:
Shorter check-in times: When you use the Clearwave check-in kiosk, you'll find your experience takes much less time. In fact, patients using it spend less than 4 minutes checking in whereas before our typical check-in time was 6-8 minutes.
Increased privacy: You'll be able to spend less time giving information or paying a bill verbally, either in person or over the phone, which increases your privacy risk. Our kiosks are secure and private providing privacy screens that can only be seen sitting directly in front of the screen and follows all HIPAA standards and are even ADA compliant.
Safe, quick authentication: While reviewing your information, the kiosk gives you the opportunity to correct any errors right at that moment to ensure your information is up-to-date.
Eco-friendly: By using this new system, we are able to drastically reduce our environmental footprint with less paperwork.
Customized patient experience: Your data will be securely stored for ease of access at each visit making your next appointments much easier and faster!
Mobile Pre-Check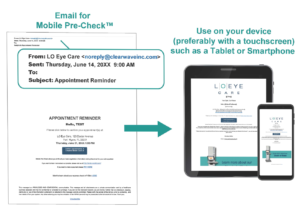 When you schedule for an appointment and have provided an email address, you'll get a reminder email 2 days before your appointment where you are given the option to do our Mobile Pre Check-In. The mobile pre check-in allows you to fill out information, sign forms, and add your health insurance information prior to your appointment for a smoother and faster check-in. Once you've completed the mobile pre-check and have arrived at the office the day of your appointment, please sign in at the kiosk. This check-in will be much shorter than usual because you already completed most at home. Checking in at the kiosk will alert the staff that you have arrived. For more information on mobile pre-check, click HERE!
Feel free to reach out to us for more information and assistance. We are dedicated to the health and well-being of our patients, from check-in to the conclusion of their care.