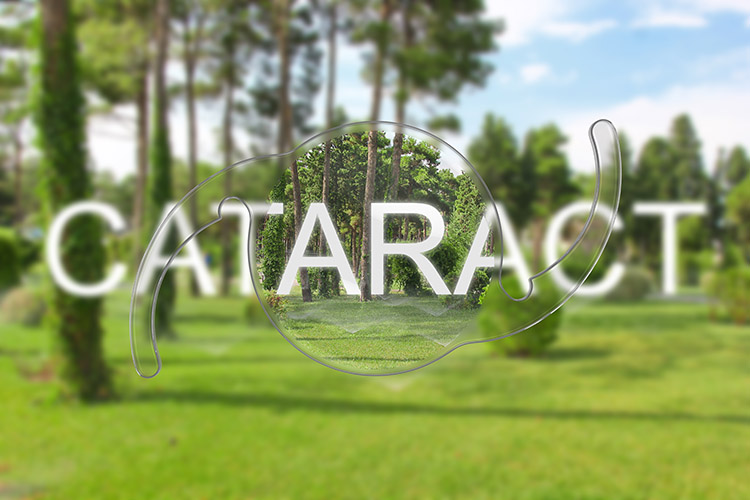 What are my options?
Treatment options vary based on how significantly vision is affected. New glasses may help. Patients can also elect to do nothing if their daily activities are not affected. However, cataract surgery is a very common procedure and modern cataract surgery allows for quick recovery.
When your ophthalmologist determines your cataract is ready for removal, there are several surgical treatments available. Your L.O. Eye Care cataract specialist will recommend a surgical option based on your personal needs and desires.
Basic Implant
This is the lens implant (also known as monofocal lens) that has been used in cataract surgery for decades. It has been proven effective with predictable vision results. It can be used in a variety of eyes and can be used in the presence of other eye diseases. This implant is commonly used to correct either distance or near vision only. It is not designed to correct both distance and near vision, thus reading glasses and/or bifocals are necessary. Also, it does not correct for astigmatism.
Toric Implant
If you have astigmatism and cataracts, your cataract specialist may recommend an advanced lens called a Toric Lens. This intraocular lens treats preexisting astigmatism at the same time it corrects cataracts. You will enjoy improved distance vision versus a basic implant. This implant does not correct for both distance and near vision, so reading glasses and/or bifocals are necessary.
Multifocal Implant
This high-technology lens is designed to allow patients to get a range of vision for distance and near vision – reducing or may eliminate the need for glasses after cataract surgery. This implant may not be suitable for every individual. Your L.O. Eye Care Cataract Specialist will perform pre-surgical testing to determine if you are a candidate.
Monovision
A basic or toric implant can be used to correct one eye for distance and the other for near vision (contact lens wearers over the age of 40 often do this). This works for some people, but may not be suitable for others due to visual confusion and reduced depth perception.
Will Insurance Cover Cataract Surgery with a Premium Lens?
If you are considering cataract surgery, you should know that Medicare covers the cost of the surgery, although not the full cost of a multifocal or Toric lens. As with any advanced technology lens of this type, you may be required to pay for additional services.
Cost should not be an obstacle when getting the vision you deserve. Our goal is to make cataract surgery affordable for all patients. In this regard we offer the following payment options:
Cash or Cashier's Check
Visa, Master Card, American Express or Discover
Employee Medical Spending Flex Accounts
CareCredit
0% Financing for 12 Months through CareCredit!
Through an exclusive arrangement, our patients can have cataract surgery with premium lenses now and finance the expense over the next 12 months – Interest Free!
To apply for financing visit https://www.carecredit.com/doctor-locator/results/5173371668/ to fill out an application. You are under no obligation to accept the financing, nor does it open a credit line under your name – it is merely a pre-approval. Please note, payment must be made to L.O. Eye Care before surgery.
Learn more about Cataracts
What are cataracts?
Preparing for cataract surgery
mycataracts.com