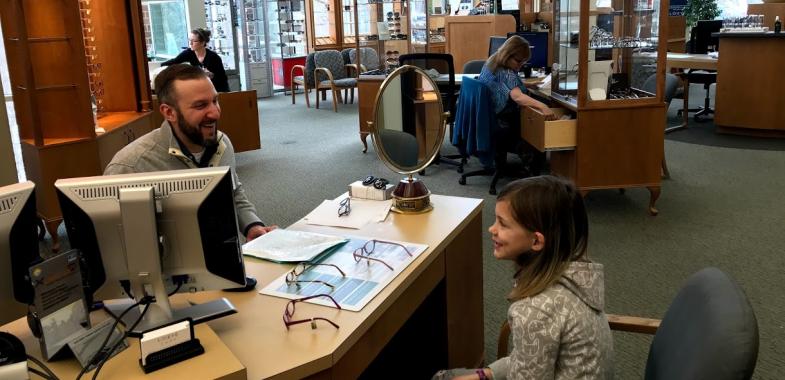 Seven tips to help your child wear (and take care of) their glasses
While some kids may instantly love their new glasses, others may need more convincing. Whether they're self conscious, concerned about being teased, or just don't like how glasses feel, getting your child to reliably wear and take care of their glasses can be a challenge for any family.
Here are seven ways to help your child love (or at least wear) their glasses.
Let them pick out their own pair
As kids navigate through different stages of development, they become more independent and begin to develop strong preferences. Let your child pick out their own color and style of glasses. They will be much more likely to reliably wear and care for them when they feel confident about their own decision.
Choose the right materials
Kids can be tough on glasses. Luckily, glasses manufacturers design kids' frames with sturdiness in mind.
When you pick out glasses with your child, talk with the optician about which materials best fit your child's lifestyle. Should they consider a specialized pair of sports glasses? Should they have metal or plastic frames? What about special straps and loops to help glasses stay secure? Or special polycarbonate lenses for added durability?
Your L.O. Eye Care optician will walk you through all of the important features to consider when buying children's frames.
Teach proper glasses care right away
Your L.O. Eye Care optician will show your child the proper way to take care of their glasses, but it's important to make sure you keep your child accountable at home. Show them how to properly put on and take off their glasses using two hands, clean their lenses correctly, and put their glasses away in a case for safekeeping when not in use.
If your child is excited about their new frames, they may feel a sense of pride and ownership of their glasses and enjoy caring for them. For children who are having a harder time getting excited, try a chart-based reward system. Agree on a prize and then set a goal. For example, if your child cleans and properly cares for their glasses every day for a week, they get a special treat. If they do for an entire month, the whole family will go out to dinner at their favorite restaurant. Encouraging them to consistently care for their glasses each day will help them establish a lasting habit.
Set clear expectations and be consistent
Talk with your kids early and often about why it's important for them to wear their glasses every day. Glasses not only help them see clearly but can help them perform better at school and extra activities. Make it a nonnegotiable part of their morning routine and consistently, but patiently, remind them when they forget to put them on. Eventually, it will become second nature.
Make sure they fit properly
A little while after your child receives their glasses, ask them about how they feel. Do they slide down on the child's nose a lot? Are the arms too long or too short? Check to see that the frames sit well on the child's face and that each part is comfortable for them. If something seems off, bring the frames back in to any L.O. Eye Care office for a free adjustment.
Buy a backup pair
If possible, buy a backup pair of glasses for your child. Hang on to them in case your child loses or breaks theirs. You can also store the extra pair at school to make sure that your still child wears them throughout the school day if they forget their original pair at home.
Show them glasses-wearing role models
If you child feels self conscious about wearing glasses or worries about being teased, show them role models who sport great specs. If you wear glasses, wear them proudly and show them there is nothing to be ashamed of. Or, show them photos of their favorite glasses-wearing characters, like Harry Potter, or celebrities, like Taylor Swift.
Do you think your child may need glasses? Schedule them for a back to school eye exam to find out! Call 517.337.1668 or use our MedChat service today to schedule an appointment.