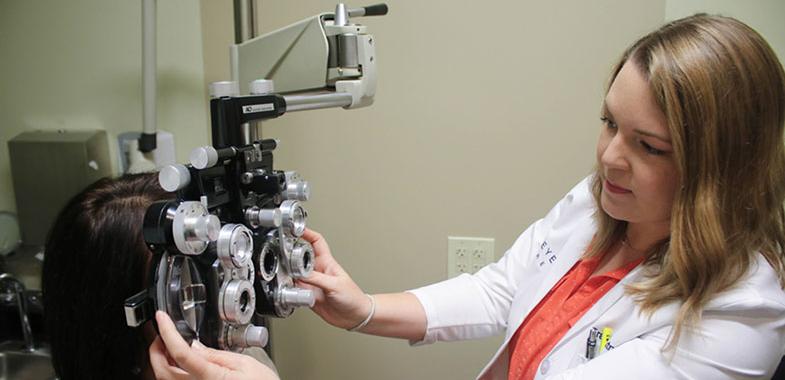 Vision vs. medical care at L.O. Eye Care: What's the difference?
At L.O. Eye Care, we offer everything from contact lenses to cataract surgery. But how do our different services determine what your experience with us will look like?
First, we need to establish the difference between a vision-only visit and a medical visit.
"Vision-only visits are for determining how well you are seeing and screening for different eye diseases," said Dr. Tracy Putnam, an optometrist at L.O. Eye Care. "Routine eye exams, eyeglasses, contact lenses, dilation and refraction are also considered vision-only services." These visits will produce diagnoses like nearsightedness, farsightedness, or astigmatism, for example, as well as determining if you would benefit from glasses or contacts.
When you come in for a routine eye exam, or any other vision-only service, you will be seen by one of our highly-skilled optometrists, like Dr. Putnam. Optometrists are health care professionals who provide primary vision care. They are trained to perform routine eye exams, vision tests, prescribe contact lenses and eyeglasses, and detect and follow certain eye diseases. Optometrists are required to complete four years of education beyond undergraduate schooling to earn a doctor of optometry degree. They may also chose to complete an additional one-year residency program for further specialization.
During a routine eye exam, an optometrist may notice something that needs further evaluation by a medical eye specialist—maybe an early indication of eye disease or an eye infection. This evaluation would be done during a separate medical eye visit, either with an optometrist or ophthalmologist.
"Medical eye exams are for diagnosing and treating eye diseases and disorders, and they can provide a lot of key information about a patient's overall health," said Dr. Putnam.
L.O. Eye Care sees patients for retina disorders, diabetes-related eye conditions, glaucoma, and cataracts. But a medical visit could also include more acute eye ailments, such as conjunctivitis or infection/inflammation in other parts of the eye.
Ophthalmologists have medical degrees from medical or osteopathic medical schools and have chosen to specialize in eye pathologies and disorders. These doctors are licensed to treat and perform surgery on eyes. Ophthalmologists can specialize in certain areas of the eye, certain eye diseases, or certain procedures.
The type of visit you have at L.O. Eye Care, and the type of doctor you see, impact how your insurance companies will cover the services. Medical visits are covered by your typical medical insurance company and some insurance companies will cover routine eye care. However, not all insurance providers can provide coverage for all vision-only services. These items can be paid for out of pocket, or you may need additional specialized vision insurance to cover routine eye exams and prescription glasses or contacts. If you have questions concerning the type of insurance that will be used for you visit to L.O. Eye Care, contact our Billing Department at 517.337.1668.
From routine eye exam to advanced surgery, rest assured that our skilled and compassionate staff of optometrists and ophthalmologists will provide you will the highest quality of eye care. At L.O. Eye Care, your sight is our focus.