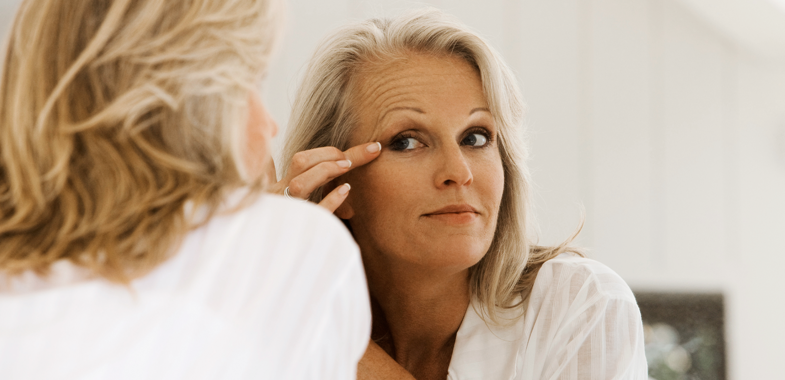 Showing Signs of Aging? An Oculoplastic Surgeon Can Help
When you decide to consider cosmetic surgery, it can be difficult to know where to begin. Which procedure can help you achieve your desired look or outcome? What will those procedures entail, and how long can you expect those results to last?
The only way to truly know which procedure is right for you is to schedule a consultation with an oculoplastic surgeon. They have advanced training in the complex anatomy of the eyes and the face and are your best resource for understanding your options for surgical and non-surgical oculoplastic procedures. L.O. Eye Care's Oculoplastic Surgeon, Dr. Craig Lewis, is board certified and member of the American Society of Ophthalmic Plastic and Reconstructive Surgery.
If you're not ready to schedule a consultation yet, it's still a great idea to think about what areas you want to improve, and which procedures can help you achieve your desired outcome.
Here are four of the most common signs of aging around the eyes and face, and how you can address them with the oculoplastic services at L.O. Eye Care:
Droopy eyelids
One common sign of aging is drooping eyelids. These can cast unflattering shadows on the eyes and face, or create a tired or angry expression. Drooping eyelids can even interfere with vision. There are a few different surgical options available for addressing drooping eyelids.
Blepharoplasty addresses drooping eyelids directly. Both upper and lower lid blepharoplasty involve removing extra skin and fat from around the eyes to tighten the muscles, allowing the eyelids to open fully and function naturally. This can help you achieve smoother skin around the eyes and a more youthful look overall. The incision for blepharoplasty is so thin that it is camouflaged in the natural eyelid crease. Results are different for everyone, but can last from 10-15 years.
An eyebrow lift can be used to tighten the muscles around the eyelids, eyebrows, and forehead. This can help your eyes appear to open wider and reduce wrinkles on your forehead. An eyebrow lift can be performed through an eyelid incision or through small incisions above the forehead or along the hairline. For some patients, it may take one to six months to see progressive improvement. The results of an eyebrow lift should last from five to 10 years.
Wrinkles
Fine lines and wrinkles around the eyes, cheeks, and mouth are one of the most common signs of aging. As we age, we lose facial fat, collagen, elastin, and hyaluronic acid—the structures that help our skin look smooth, full, and youthful.
The most widely used option to reduce wrinkles is BOTOX®. BOTOX® injections are primarily used to reduce wrinkles around the eyes and forehead. The injections are made of a purified protein from the botulinum bacteria that temporarily weaken muscles, reducing the appearance of fine lines and wrinkles. The effects of BOTOX® injections usually last from four to six months.
To help reduce wrinkles, you may also be able to try dermal fillers. These injections fill in wrinkles and plump up the cheeks and lips to help reduce the appearance of sunken or sagging skin. Our oculoplastic surgeons use several types of fillers in the office, including hyaluronic acid gels like as JUVÉDERM® XC, BELOTERO BALANCE® and VOLUMA® XC. The type of filler used depends on the location of the affected area and severity of the wrinkles. The visual effects of dermal fillers can last from six months to two years.
Patients who receive BOTOX® injections or dermal fillers usually only experience mild discomfort, and the procedures last an average of 15 minutes. There is little to no downtime associated with these procedures.
Skin discoloration
Over time, sun spots, acne scars, and pigmentation changes can cause the skin on your face to look tired or dull. Our oculoplastic surgeons use Sciton® broadband light (BBL) to address discoloration. The light therapy produces softer and smoother skin with a reduction of blood vessels and pigmentation.
Our surgeons use the Sciton laser for laser skin resurfacing as well. The laser therapy heats and removes the top layers of your skin, removing old tissue and stimulating collagen growth. The new skins cells that form during healing create the appearance of tighter, younger skin.
The results of these treatments vary by patient. Talk with our local oculoplastic surgeons to see what results you can expect from laser skin resurfacing.
Fat under chin
One of the earliest signs of aging can be the increase in fat deposits underneath the chin. L.O. Eye Care offers KYBELLA®, a unique injection that destroys fat cells and reduces the fullness of the chin. The results of this procedure are permanent. Each treatment is given at least one month apart and patients should not receive more than six treatments in total.
To learn more about which procedure may be right for you, schedule a consultation will our local oculoplastic surgeon. Call 517.337.1668 to schedule an appointment today.